Cut-up Coquette skirt, old Gap chambray shirt
I have a confession to make. My love and obsession for clothing comes with a dark side...I like to cut things up! I am a cutter of things (and destroyer of structural integrity). From the day I first started buying my own clothing (mostly thrifted), I've cut collars off, and trimmed hems, and added bits and pieces to make them mine. The truth is I really love the process of playing (hoping), cutting into some fabric with a vague and excited plan for how to improve it. (Freudian slip- I accidentally typed 'executed' there, which is too often the case, sadly, for my half-baked attempts sometimes remain just that!)
Anyway, I've been having fun with Anthropologie's sale items for awhile. Sometimes a piece is really well made, but there's just something off, something that needs work. Since I particularly obsess over beautiful materials, I like their "Made in Kind' designer collaborations for this pursuit. Designer pieces can be just a bit too much sometimes for your everyday person. All the better then when you can find them for crazy sale prices down the road!
This Coquette Matelasse dress by Tracy Reese was ridiculously overpriced for the Canadian market at something like $450. I really liked the mix of inky colour in the textured silk skirt, but even when it went on sale it certainly wasn't a dress I had any dressy occasions in life for. When I found it in the sale room one day long after Christmas for $29.95, I though perhaps it was time we reflected on how the skirt part could become the skirt it wanted to be!
A couple of snips later and the upper shell was separate. I spent a half hour or so hand stitching a thick grosgrain ribbon to the cheapish velvet band at the waist and I was done! I love how the fabric swishes, and of course the contrast with a chambray shirt just makes me happy. One day I'll try and convert that fuzzy caterpillar-y top into a bolero of some sort!
I like that now I don't need some kind of occasion to wear this skirt- throw on a t-shirt in summer or a sweater in winter and this thing will be work wear for, well, about as many times a year as most of my clothes get reworn!
Next up? Another Tracy Reese piece I picked up for $40 over the winter- me and rompers are not friends, but I love the print! True to form, I already unpicked the seams months ago to turn this into a lovely fitted dress. I just need an evening or two to work on getting the fit just right. And I just so happen to have a summer vacation coming up!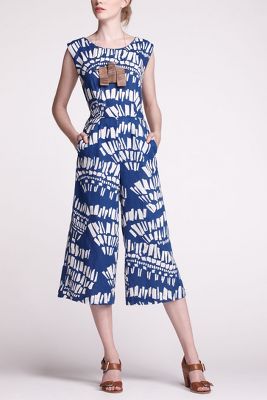 Tracy Reese In a Day Jumpsuit