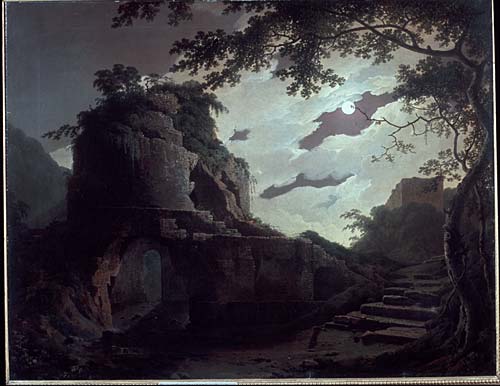 Virgil's Tomb by Moonlight, 1782. Richard Wright of Derby
Ah, after months of sunny hot days the rains have arrived. It is truly a dark and stormy night, and I got home from work with my pretty new-to-me
floral skirt
absolutely sopping. I was laughing while trying to avoid the deepest puddles (high-heeled wedges + rain= waterslides for your feet!) and now I'm just waiting for a pot of tea to brew so I can curl up on the couch and read some Gothic fiction. There's nothing like bursts of bright lightning and rumbly thunder (and perhaps a cuddly cat) for setting the atmosphere for the natural sublime!
I finally read the classic novel Mysteries of Udolpho back in January, and now I'm moving onto another Radcliffe tale of shady monks and scheming nobles- The Italian.
I wore a bunch of stuffs this week, but only managed to document a couple of days worth. I was quite pleased with how this goldy outfit came together. It's like a more delicate version of the Baroque opulence of the brocades featured in the fall fashion magazines. And I finally got to step my feet into some prim lace-up oxfords- ah Chie Mihara how I've missed you. Let's never be separated again.
J Crew Daisylace tee, F21 mustard skirt, beaded collar from a market, Chie Mihara Ramsita oxfords, thrifted bag
detail: beaded collar and architectural lace
Oh,and that was not the only happy reunion this week. It was actually sorta chilly enough to wear my Icon Trench again!
J Crew Icon trench in burnt caramel
Alright, my tea is ready and I need to dip back in to this book, and see how the brave Vivaldi is planning to whisk Ellena away from the Abbess that threatens to lock her up forever at his mother's behest!